Honda Service Pass

We Love Your Honda Too!
At Honda, we take pride in our reputation for dependability, reliability, and care for our customers. That's why we've created Honda Service Pass, a complimentary maintenance program for your vehicle's first 2 years or 24,000 miles, whichever comes first.
Honda Service Pass adds more value and peace of mind to your vehicle purchase decision, because it covers select factory-scheduled maintenance for the first two years or 24,000 miles of vehicle life, whichever comes first.
Peace Of Mind And Vehicle Maintenance Made Easy
The Honda Service Pass
This complimentary plan includes:
Engine Oil and Filter Changes
Tire Rotations
Multi-point Inspections
and features:
No additional cost
Honda Genuine Parts And Oil
Honda-Trained Technicians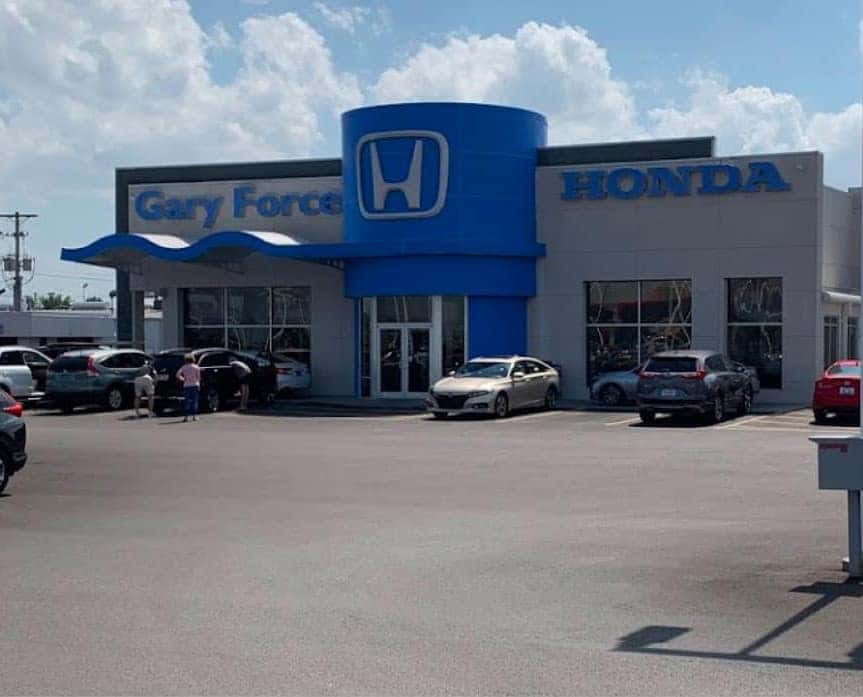 The exterior of the Gary Force Honda dealership in Bowling Green, KY.
These maintenance appointments (as indicated by your vehicle's Maintenance Minder system) must be performed at a participating Honda dealership (like ours!). Honda dealers have always been the best place to service a Honda vehicle, and now Honda Service Pass further enhances the value of that experience.
Currently, the following vehicles are eligible for Honda Service Pass:
2023 HR-V
2023 Odyssey
2023 Ridgeline
Frequently Asked Questions
Is there a limit on maintenance during the 2 year/24,000-mile coverage?
There is no limit on complimentary services. As long as the maintenance is needed according to the Maintenance Minder System, your vehicle is eligible for that service.
Does the Maintenance Minder notification have to be on?

For service to be eligible, the Maintenance Minder notification has to be on
Will there be a grace period after 2 years/24,000 miles?
There is no grace period, so be sure to get your included maintenance items performed if your vehicle is eligible for the Honda Service Pass!
Is the Honda Service Pass transferable?

Yes! The Honda Service Pass is transferable if the vehicle is sold within the 2-year or 24,000-mile program terms. The new owner will simply get the remainder of what's left on the Honda Service Pass program term limits.
Visit Gary Force Honda for Exceptional Buying and Service
There's only one dealership in the Bowling Green area with a reputation like ours—and we've been around for more than 40 years!
Gary Force Honda has earned the coveted President's Award 25 times – the most of any Honda dealer nationwide. Daily News readers voted us Best New Car Dealer, Best Pre-Owned Dealer, Best Auto Service, and Best Place for an Oil Change. We value your time, so that's why we offer online, time-saving tools to help you complete new and like-new car purchases and schedule service appointments!
Remember, all new Honda vehicles continue to be covered by a 3-Year/36,000-Mile Limited Warranty, plus a 5-Year/60,000-Mile Powertrain Limited Warranty. Roadside Assistance 24-hour emergency road service is available during the 3-Year/36,000-Mile Limited Warranty period. Services include jump-starting, flat tire and lockout assistance, towing, and more.
Call us at 270-282-7877 or visit us at 2325 Scottsville Rd. in Bowling Green, KY. We look forward to seeing you soon!
Disclaimer:
*Certain models may require different maintenance schedules as recommended by the vehicle's Maintenance Minder system and described in the vehicles'
Owner's Manual. Visit a Honda Service Pass dealer for vehicle eligibility, coverage details, and exclusions. Vehicles sold or used for commercial fleet, rental, shared use/ride share, taxi or livery, are not eligible. Valid only in the United States of America.
2023 HR-V, 2023 Odyssey, and 2023 Ridgeline shown and offer only available for 2023 HR-V, 2023 Odyssey, and 2023 Ridgeline.
©2022 American Honda Motor Co., Inc. All rights reserved